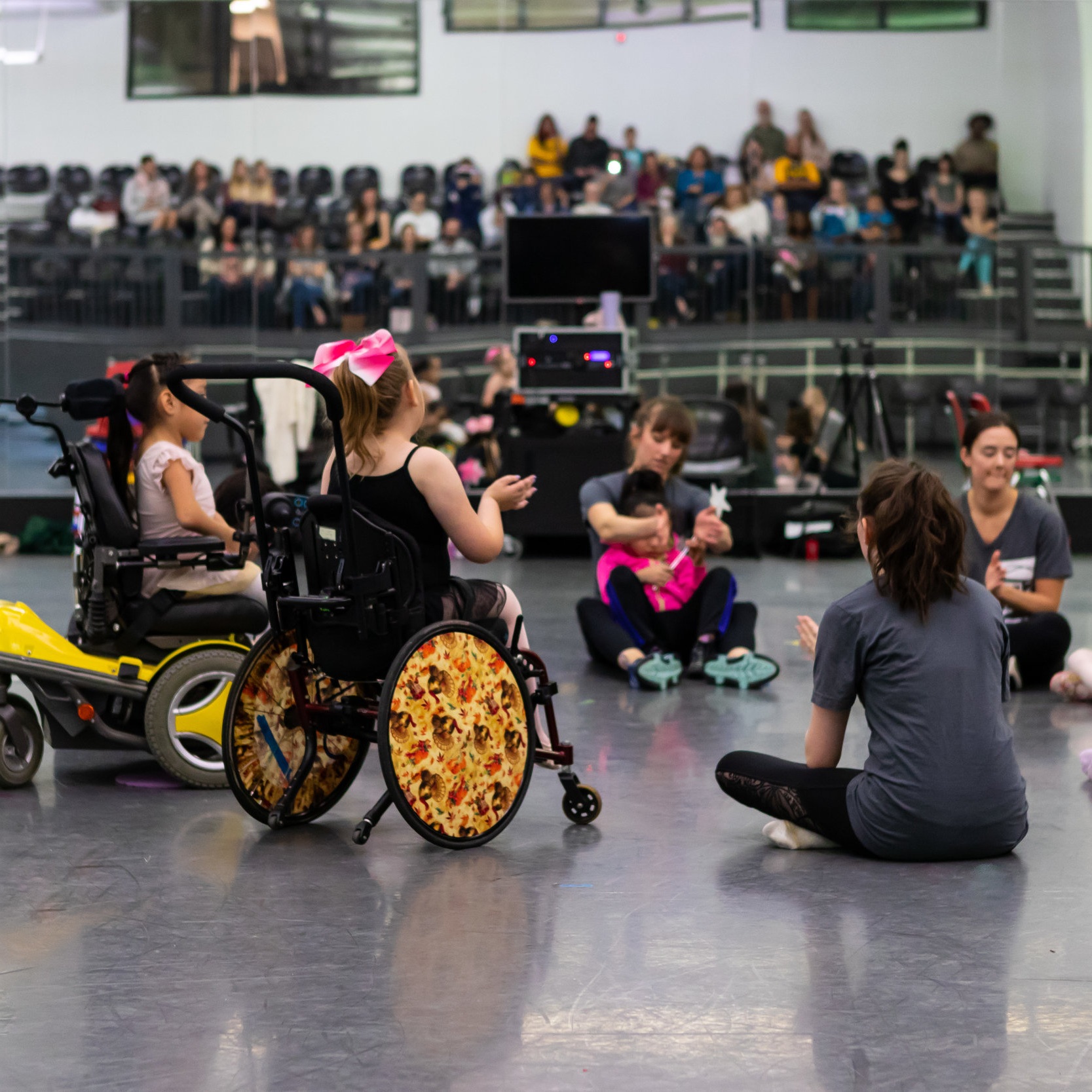 Adaptive dance: new perspectives
Adaptive Dance: New Perspectives is a universally-accessible dance program created by Occupational Therapist Hannah Mariani, OTD, OTR/L, and Linnea Swarting, former Nashville Ballet company member with adaptive dance education training. This program provides an opportunity for children of all abilities to experience the joy of dance, while developing body awareness, coordination and balance in a traditional studio environment.
This is an opportunity for parents to watch their child's face light up as they grow more confident through learning about and participating in dance. The class curriculum is created intentionally by a certified Occupational Therapist, Physical Therapist and professionally-trained dancers to ensure a safe and enjoyable experience. Nashville Ballet is thrilled to host a program that promotes inclusion with the philosophy that dance should be accessible to anyone and everyone.
Schedule & Cost
Adaptive Dance: New Perspectives is an 11-week program meeting once weekly for one hour on Saturday afternoon.
Thanks to a generous grant from the Nashville Predator's Foundation, 2019-2020 school year enrollment is tuition-FREE. Class capacity is limited and requires a brief intake assessment. Enrollment is offered on a first-come, first-served basis and includes 11 class sessions with an occupational therapist and a Nashville Ballet faculty member. Must enroll each semester. Previous enrollment does not guarantee your spot in the following semester.
Fall 2019 Intake Assessments: August 6-8, 2019
Fall 2019 Semester: August 17 - November 11, 2019 (no class September 28)
Generous support provided by:
Hannah Mariani
School of Nashville Ballet Faculty
Occupational Therapist
Hannah Mariani is a graduate of Belmont University's Occupational Therapy doctorate program. Along with her 15 years of dance experience, Hannah attained a minor in dance during her undergraduate studies at Belmont where her dream to develop an adaptive dance program began. She developed this program in fulfillment of her doctoral project and is passionate about providing children inclusive activities.
Victoria Clerico
School of Nashville Ballet Faculty
Former NB2 Dancer
Occupational Therapy Assistant Student
Victoria Clerico graduated from the Royal Winnipeg Ballet School in Canada and then danced with the Royal Winnipeg Ballet. She danced with Teatrul de Balet Sibiu in Romania before dancing with Nashville Ballet as member of NB2. Victoria is currently an Occupational Therapy Assistant student at Nashville State Community College and and has completed Adaptive Dance Teacher Training through Boston Ballet.
Elizabeth Harrison, PT, DPT
Physical Therapist, Susan Underwood Physical Therapy
Elizabeth graduated from Belmont University and continued on to receive her Doctorate in Physical Therapy from the University of Tennessee at Chattanooga, where she completed a physical therapy internship with Boston Ballet. While at UTC, Elizabeth was awarded the Amy S. Mildram Pediatric Physical Therapy Scholarship Award for her involvement with and research benefiting the pediatric population. Elizabeth is one of the official physical therapists for the Nashville Ballet professional company. She currently works at Susan Underwood Physical Therapy where she treats a variety of orthopedic and neurological conditions in dancer and non-dancer patients. Prior to completing school, Elizabeth danced with Nashville Ballet, Joffrey Ballet, and Cincinnati Ballet. Elizabeth is grateful for the opportunity to combine her clinical experience as a PT with her artistic experience as a dancer to provide students of all abilities a safe environment to express themselves creatively.
Linnea Swarting
Adaptive Dance: New Perspectives Founding Instructor
Former Nashville Ballet Company Apprentice
Originally from New Canaan, CT, Linnea Swarting trained at New England Academy of Dance and privately with Christina Fagundes before beginning her professional training with Boston Ballet School, Nashville Ballet and The Washington Ballet. She first joined Nashville Ballet in 2013 as a student in the Professional Training Division. After spending a year with The Washington Ballet, she returned to Music City in 2015 as a member of NB2 and was promoted to Nashville Ballet Company Apprentice in 2017. Linnea has a passion for working with students with special needs and introducing them to the world of dance and was certified to teach adaptive dance through Boston Ballet's Adaptive Dance teacher training program.
When does the program start and end?
It is an 11 – week program. The spring semester will be held January 12 through March 23.
How many classes are there?
Two classes will be offered on Saturdays, each for one hour.
Classes will be divided by age.
Who is appropriate for this class?
Both classes are universally-accessible and not limited to any specific special need or diagnosis.
How can my child participate?
Sign up for an intake interview assessment! Interviews will be held on January 12th between 11:30am-1:00pm. Assessments will take place at Nashville Ballet. The purpose of the intake interview is to learn more about your child and how we can make this a successful environment for the student and the whole family.
What should my child wear?
Black leggings with a white or Nashville Ballet t-shirt OR dance tights and leotard. We ask that your child wears ballet slippers, supportive shoes with braces, or is barefoot. Your child's safety is our priority!